Join three nationally-recognized trauma-informed consultants for a re-do of their sold out Trauma-Responsive Schools virtual conference
These times are unsettling in many ways. But the disruptions have widened opportunities for different ways of being, thinking and doing in education.
The trauma-informed schools movement has never been more relevant. Schools committed to cultivating trauma-informed change can successfully buffer the adverse effects of the pandemic, economic collapse, and persistent racial injustice.
Join Emily Read Daniels and Lara Kain along with James Moffett and a host of diverse special guest presenters as these three present their emerging model for trauma-informed schools: Regulation Before Education: The Roots and Fruits of Trauma-Informed Schools.
In this 3-day training, presenters will address a host of issues for the upcoming 2020-2021 School Year:
Understanding the Impact of Trauma on Brain and BehaviorCultivating Regulation and Relationships for Safety and Connection in the ClassroomProcessing Grief and Loss for Staff and StudentsAnti-Racist EducationRestorative JusticeTrauma-Informed Pedagogical PracticesDay 1: The Roots of a Trauma-Informed School (July 29, 2020)
REGULATION & RELATIONSHIPS
Understanding the Impact of ACEs and Trauma on the Body, Brain, and BehaviorNMT™ Core Principles of Brain Development and FunctioningSomatosensory FunctioningPerry's Sequence of EngagementThe Polyvagal Theory of Human BehaviorDoing Process WellAddressing Grief and LossCultivating Collective Healing and Collective CareSYSTEMS THINKING
Dynamics, Pattern of Interaction, Systems PhenomenonOnboarding Others – James' Model Structure, Roles, LeadershipInternal and External Stakeholders and Sources of SupportDay 2: The Root Thinking of a Trauma-Informed School (July 30, 2020)
Trauma-Informed CareSAMHSA 6 PrinciplesAnti-Racist SchoolsRecognizing White Supremacy Culture in SchoolsAnti-Racist FrameworkAnti-Racist PracticesRestorative Justice Trauma-Informed Discipline (Key Considerations)Day 3: The Fruitful Action of Trauma-Informed Pedagogy (July 31, 2020)
History of Trauma-Informed Schools in Progressive EducationProject-Based LearningMastery-Based GradingDecolonizing CurriculumYouth Voice and Empowerment
Join three nationally-recognized trauma-informed consultants for a re-do of their sold out Trauma-Responsive Schools virtual conference
These times are unsettling in many ways. But the disruptions have widened opportunities for different ways of being, thinking and doing in education.
The trauma-informed schools movement has never been more relevant. Schools committed to cultivating trauma-informed change can successfully buffer the adverse effects of the pandemic, economic collapse, and persistent racial injustice.
Join Emily Read Daniels and Lara Kain along with James Moffett and a host of diverse special guest presenters as these three present their emerging model for trauma-informed schools: Regulation Before Education: The Roots and Fruits of Trauma-Informed Schools.
In this 3-day training, presenters will address a host of issues for the upcoming 2020-2021 School Year:
Understanding the Impact of Trauma on Brain and Behavior
Cultivating Regulation and Relationships for Safety and Connection in the Classroom
Processing Grief and Loss for Staff and Students
Anti-Racist Education
Restorative Justice
Trauma-Informed Pedagogical Practices
Day 1: The Roots of a Trauma-Informed School (July 29, 2020)
REGULATION & RELATIONSHIPS
Understanding the Impact of ACEs and Trauma on the Body, Brain, and Behavior
NMT™ Core Principles of Brain Development and Functioning
Somatosensory Functioning
Perry's Sequence of Engagement
The Polyvagal Theory of Human Behavior
Doing Process Well
Addressing Grief and Loss
Cultivating Collective Healing and Collective Care
SYSTEMS THINKING
Dynamics, Pattern of Interaction, Systems Phenomenon
Onboarding Others – James' Model
Structure, Roles, Leadership
Internal and External Stakeholders and Sources of Support
Day 2: The Root Thinking of a Trauma-Informed School (July 30, 2020)
Trauma-Informed Care
SAMHSA 6 Principles
Anti-Racist Schools
Recognizing White Supremacy Culture in Schools
Anti-Racist Framework
Anti-Racist Practices
Restorative Justice
Trauma-Informed Discipline (Key Considerations)
Day 3: The Fruitful Action of Trauma-Informed Pedagogy (July 31, 2020)
History of Trauma-Informed Schools in Progressive Education
Project-Based Learning
Mastery-Based Grading
Decolonizing Curriculum
Youth Voice and Empowerment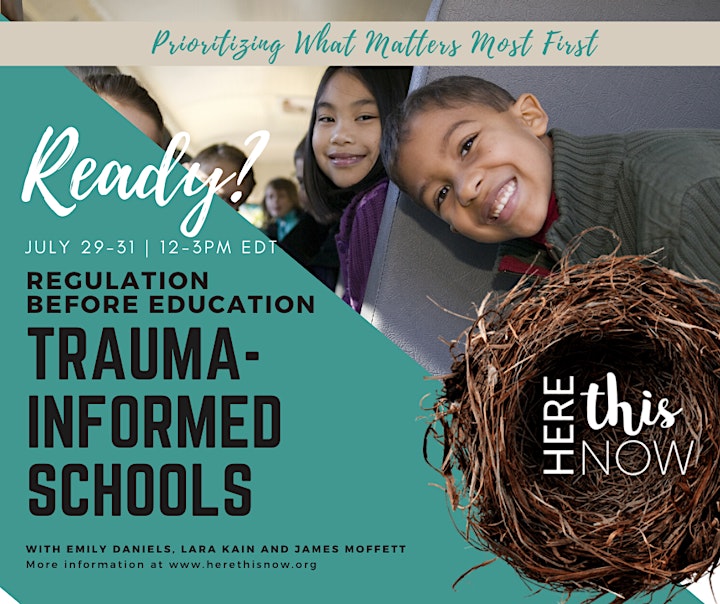 https://www.eventbriteapi.com/v3/events/112142412976/Join three nationally-recognized trauma-informed consultants for a re-do of their sold out Trauma-Responsive Schools virtual conference